My "Jaguar X-Type Sport" Story
| | |
| --- | --- |
| Built: | 26th November 2001 at Halewood |
| No: | The 44,530th Production X-Type |
| Model: | X400 |
| Body: | Saloon |
| Version: | Series 22 |
| Engine: | 2.5L AJ25 V6 Petrol |
| Transmission: | Jatco 5 speed Transverse Automatic |
| Drivetrain: | Jaguar Traction (Full-time All-Wheel Drive) |
| Suspension: | Sport |
| Exterior: | Platinum with colour keyed grille surround, boot plinth, spoiler, bumper blades and de-chromed window surrounds |
| Interior: | Warm Charcoal with Cranberry Sports Leather (perforated) Seats (8-way electric adjustable) and Grey Stained Birds Eye Maple Wood Veneers |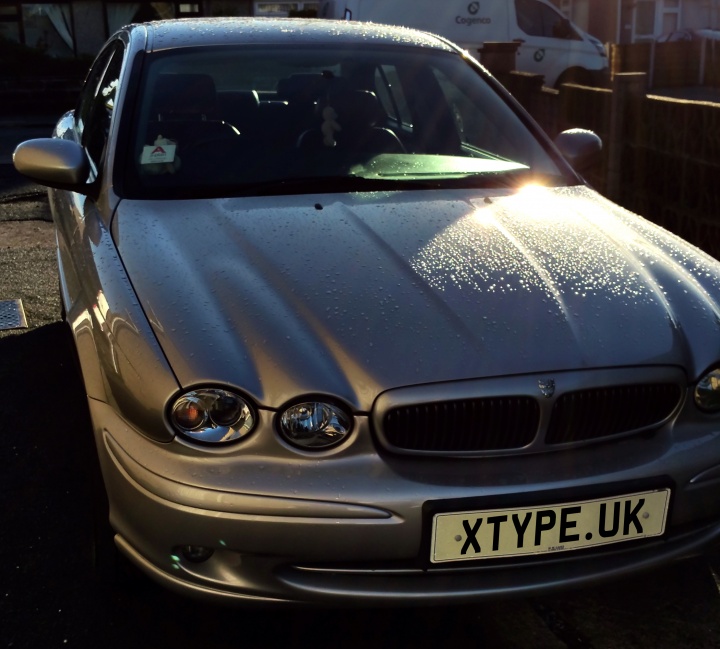 First viewing of the X-Type, January 1st 2017
So it all started on New Years Day 2017. Having never thought about owning a Jaguar X-Type, and driven a 1996 Honda Prelude 2.2 VTEC (Import) for 16 years, this one was up for grabs. Belonging to neighbours of my parents, they were moving abroad and not taking the car with them. I decided to take a look and I liked what I saw. The exterior was in great condition for a, then, 15 year old car but it was the interior that really caught my attention - Cranberry sports leather seats. Admittedly red leather is not to everyones taste but it is undeniably Jaguar.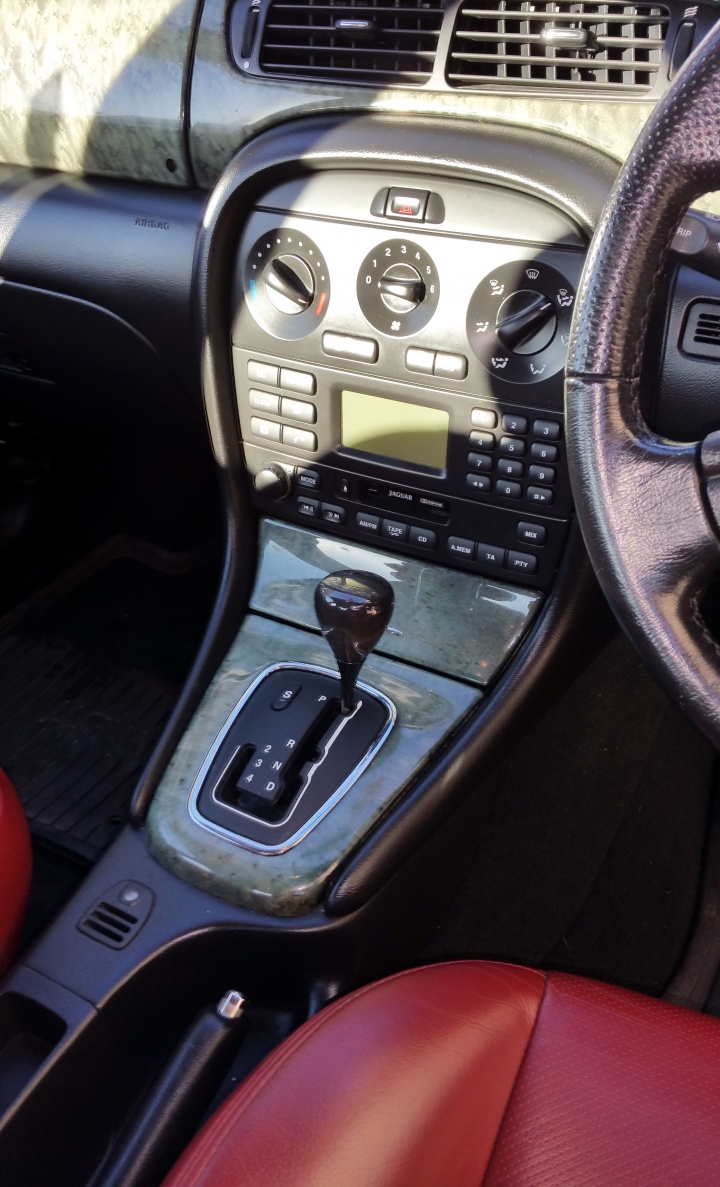 First viewing inside the X. Lovely cranberry leather but that cassette/radio has to go!
Everything was in amazing condition, with just the usual scuffs on the bolster of the drivers seat. Just one thing! That radio/cassette headunit would have to go! And with that single viewing, without even driving it (I'd never driven an automatic before) the deal was done. Only one down side... I'd have to wait until February to pick it up.
6 weeks of waiting left plenty of time for research. It became very apparent very quickly that it would be beneficial to join a Jaguar Forum or two, as these always popped up in search results and were the best resources for the information I needed - namely "how to get rid of that awful radio/cassette unit".
In my search for information I came across references to the Jaguar touchscreen, with people talking about how to retrofit this to the X-Type. I thought this was a good plan and it appeared to be quite straight forward. Second-hand units were in plentiful supply on Ebay and not expensive. More research however highlighted a potential problem - you had to have climate control in order to fit the touchscreen. My soon-to-be new X-Type only had manual aircon. So how do I upgrade to climate control? Is it possible? "Not possible", "Not cost effective" were the initial findings but a bit more digging and it became clear it was actually quite straight forward and not expensive. A handful of new parts needed (a fan module, control panel and a couple of temperature sensors) and some wiring changes. So the touchscreen was achievable.
With a few more weeks to go before I picked up the X I started acquiring the parts needed to rid myself of the dreaded radio/cassette. By the time I picked up the car on 12th February 2017, I had almost everything I needed to start the conversion work. First though, I had to get to grips with my first automatic!
The habits of 30 years of manual driving proved tricky to switch off. My left leg kept insisting on applying the clutch, the one that was no longer there. Unfortunately it decided to make a beeline for the brake instead. My left hand was also quite eager to reach for the gear stick. It probably took a day or two before everything clicked into place good and proper. After less than a week of driving the X-Type I took my old Honda Prelude for a drive and on coming up to some red traffic lights I managed to stall. I'd forgotten to put in the clutch when I stopped! Doh! So I guess that was my conversion to automatic driving completed.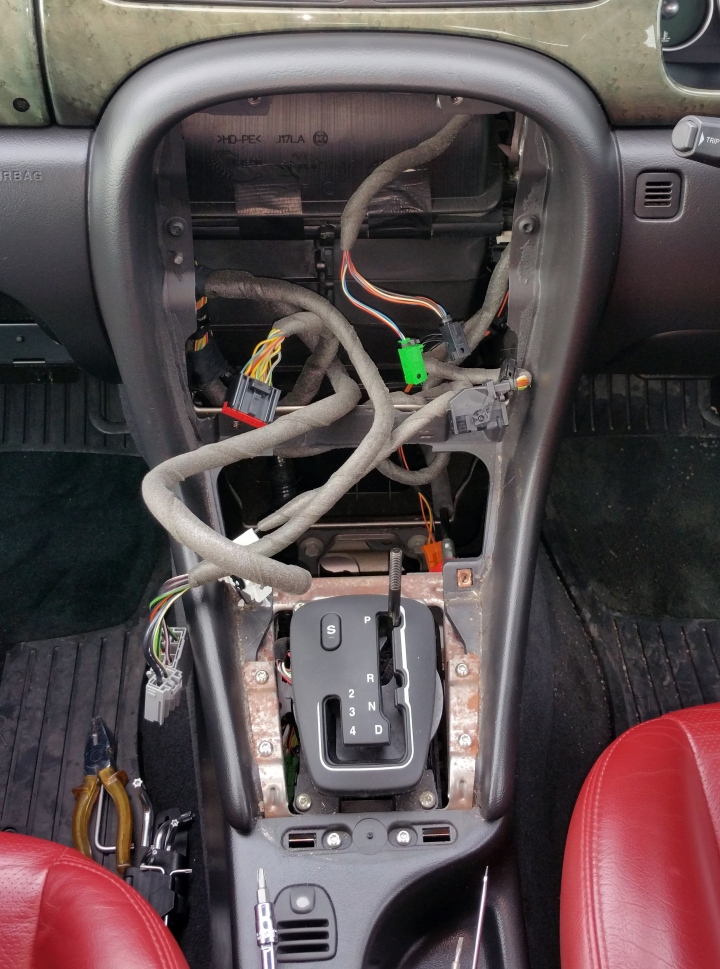 The centre console components stripped out, let the fun begin!
By mid-March I had everything I needed to eradicate the cassette/radio from my X, so with a totally free weekend I made a start by upgrading the manual aircon to climate control. There was no turning back now.
The actual process of converting manual ac to climate control is quite straight forward. Replace the fan module, change a few wires here and there, move a few wires around inside various plugs, add in the external ambient temp sensor and the internal cabin sensor and you're pretty much good to go and plug in the new digital climate control panel. Maybe 90 minutes work?
It takes a bit longer to physically fit the cabin temperature sensor (very fiddly) and the external sensor and route the new cabling. I left that for a little bit longer. Now I had the climate control working I was able to press on with the bigger goal of fitting the touchscreen.
I thought I'd need the entire weekend but by the Saturday afternoon I was well on the way to having the touchscreen and navigation system installed. I was using a custom-made loom, provided by Steve from Stoke-on-Trent. This made it very easy - practically plug n play. Run the new cable loom from the boot, through the cable runs and through to the dash. Plug everything in, reconnect the battery and voila! It works! That's what was supposed to happen. And that IS exactly what happened. Something that many people said was too difficult to do, had been done in just a few hours.
All that was left to do now was tidy everything up, screw everything into place and go for a drive.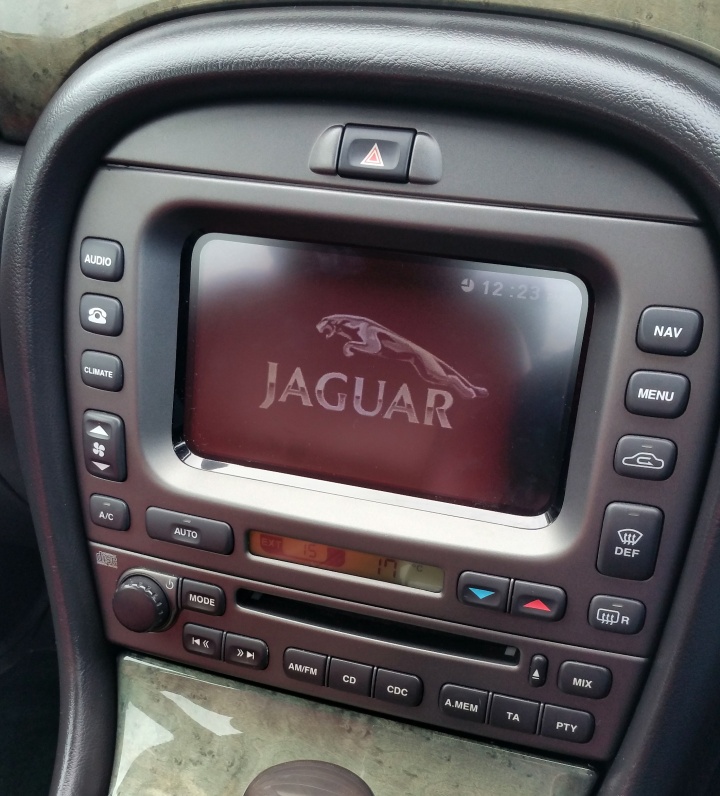 AC upgraded to Climate Control, and touchscreen and navigation system installed.
What other upgrades could I treat the X to? What 'optional extras' had the original owner been too mean to add way back in December 2001? Rear electric windows? Steering wheel audio controls? Jaguar Voice control? Powerfold wing mirrors? Phone/Bluetooth? Message Centre instrument panel? Sliding Arm rest? Rear tread plates? I think that's a yes to all of them.
The 'Projects' section of my website will detail some of the upgrades. If you want to try any of them, please be aware that you do so at your own risk. This is not a support site. I will not be able to offer any support for your project. The key is to take time to research what you want to do based on the model year of your X-Type.
Produced from 2001 through to 2009, the X-Type went through a couple of facelifts, at which point changes were introduced. Some of these changes were cosmetic, others resulted in different wiring schematics, pin-outs of cable looms, and fuse boxes. There are also differences between Petrol and Diesel variants. Many of the systems, particularly the telematics (navigation, audio, phone, voice) are also shared with the S-Type and the XJ X350/358. All three models utilise their own touchscreen due to different fascias and dual-zone climate control, for example, but the fundamental underlying systems are the same. However, always remember that this site refers to the X-Type.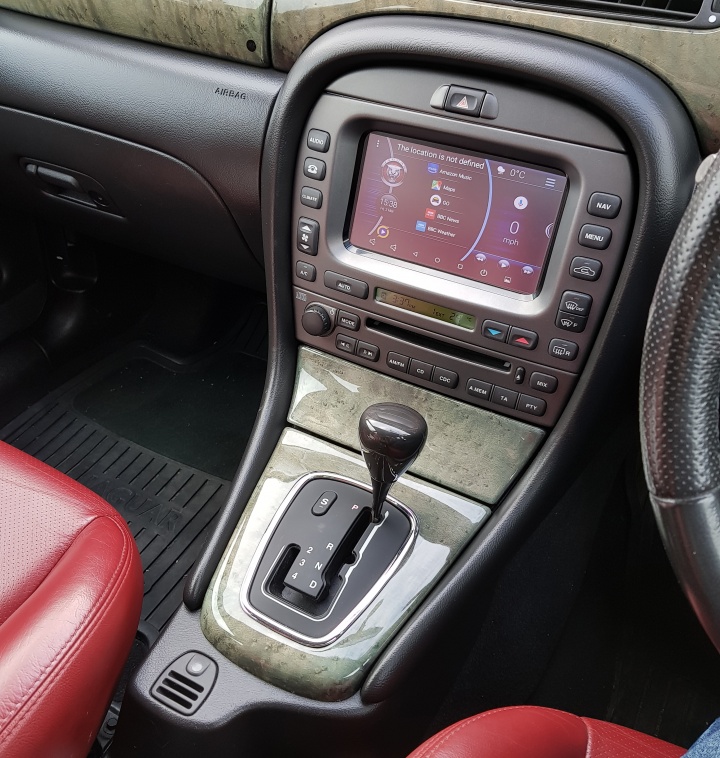 2018, and the 'JagDroid' has replaced the standard Jaguar touchscreen.
Anyway, 2017 continued to be a year of learning about the electrical systems in the X-Type and working through the wishlist. First on the list was to get the handy steering wheel controls for the audio system. As was often the case with the original steering wheel, the airbag cover was curling up at the ends, so a facelift sports leather steering wheel was located with the audio controls fitted. The phone module with bluetooth support was also installed in April 2017 and was quickly followed by the Jaguar Voice control system. May 2017 saw the inclusion of the Audio Connectivity Module or ACM for short. This further expanded the audio capabilities to allow playback from a USB memory stick, iPhone and even a standard analog input. In June 2017 it was time to fit the Message Centre instrument panel, and get an insight into fuel economy. And what Jaguar would be complete without a sliding arm rest? So the centre console was replaced with a facelift version along with facelift door cards including the front door tweeters and preparing for the installation of the rear electric windows in July. July was a busy month as that also saw the fitment of the powerfold wing mirrors and the very useful fold on double-lock feature.
2018 saw the arrival of probably the single most impressive upgrade you can possibly give to your X-Type (or indeed S-Type or XJ X350/358) - the JagDroid Android touchscreen. Courtesy of Ben Willcox, this upgrade maintains the original Jaguar functionality (phone, climate control, voice, audio system, etc) whilst introducing all the functionality of the Android operating system. The apps from the Google Play Store, including Google Maps, TomTom, News and Weather. Bluetooth audio streaming from Android and iOS phones and tablets. Full Google voice control for true handsfree operation. Spotify and Amazon Music streaming. Reverse and Front Cameras. Pretty much everything that you'd expect from a modern car.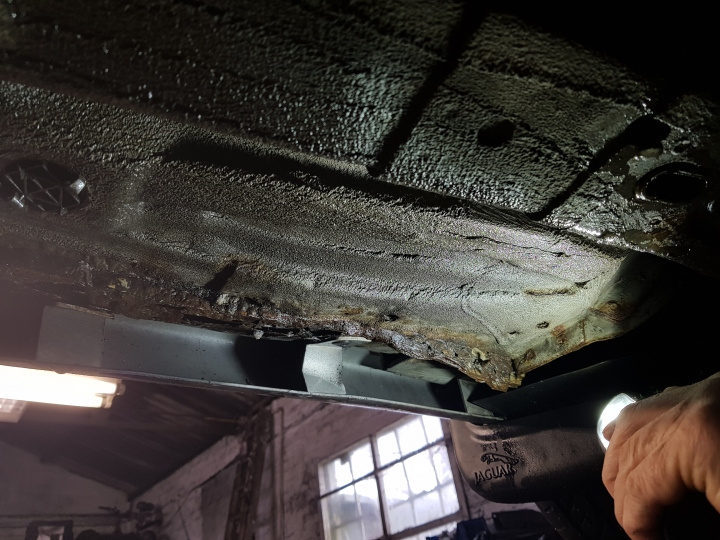 Before replacement: Sills, undeneath, near side front
Then, in February 2018, the car was booked in to my friendly mechanic to have new parking brake cables fitted and a couple of other things. It was when picking up the car at the end of the day that I got the dreaded news - the sills need sorting! Now for many people this will be a shock that arrives at MOT time and renders the car a fail and undriveable until fixed but I at least had the luxury of 3 months until my MOT was due.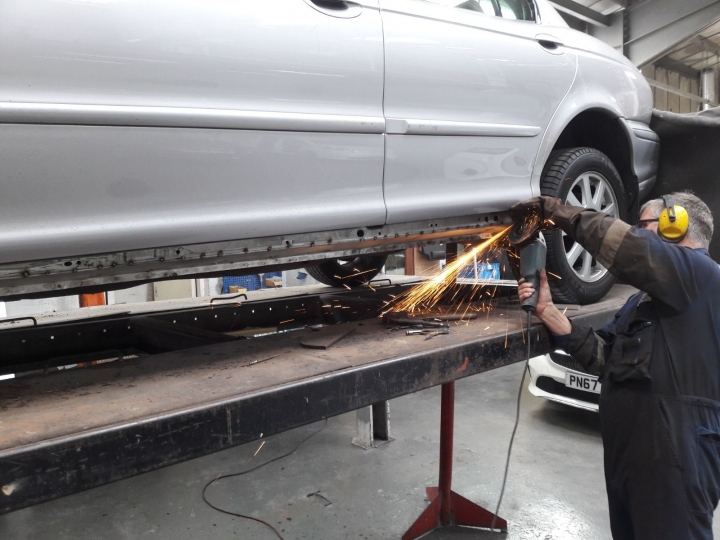 Sill replacement
The first recommended body shop took one look and decided it was too big a job for them, both outer and inner sills on both sides needed sorting. A neighbour recommended a large body shop in Fleetwood and they took on the job. New sills would be custom-fabricated to replace what was left of the original ones, not a cheap job! The work was carried out over 7 days in May, along with some other small bits of body work. The following week the car passes the MOT with a clean bill of health for another 12 months.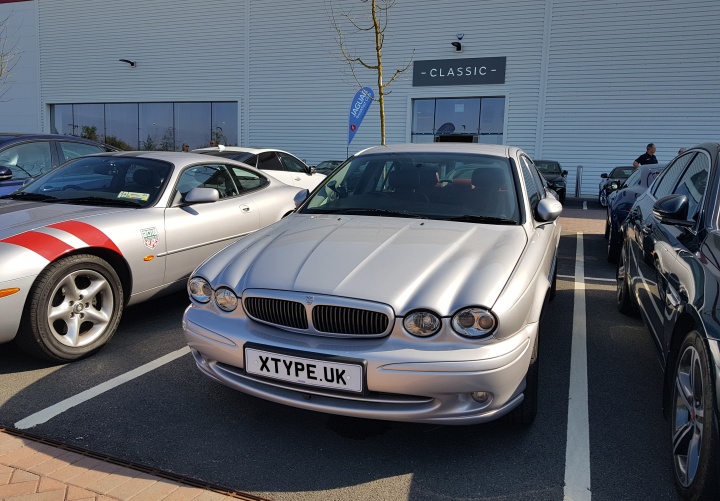 JLR Classic Works, Coventry
Whilst 2017 was the year of upgrades, 2018 was the year of getting out and about. The first Jaguar Breakfast Club meet at Jaguar Land Rover Classic Works, Coventry in June 2018, followed by a spot of Sunday lunch in August at The Harp Inn, Old Radnor, Powys with the boys from JaguarForum.com. Next was a trip back to Coventry and the JLR Classic Works for the Jaguar XJ 50th Anniversary celebrations in September 2018 to wrap up the outings for the year.
March 2019 was the first trip to the Jaguar Breakfast Club's regular home, the British Motor Museum at Gaydon, Warwickshire. Another chance to meet up with friends from JaguarForum.com. Also a chance to take in the impressive collection of vehicles both in the main halls of the motor museum and the Jaguar Heritage Collection. And with a small fault on my JagDroid, a convenient way to meet up with Ben, remove the unit in the car park and for him to take it away and fix. 3 days later, the JagDroid was back with me and back where it belongs.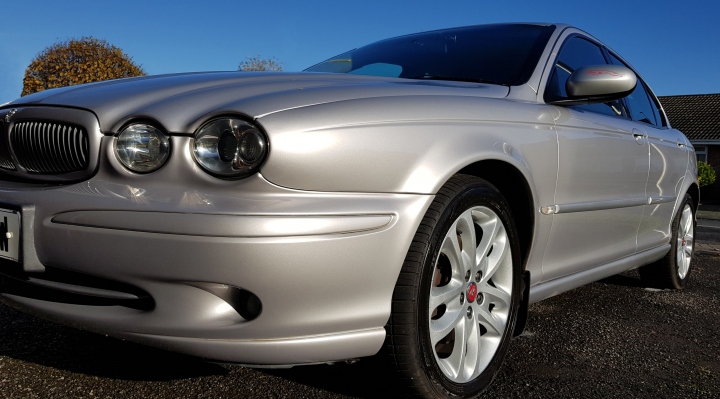 Pampering after 1000 Days of Ownership - November 2019
May 2019 saw another couple of firsts - first time 'exhibiting' the X and subsequently the first time clay-barring the car in preparation for the Elite Sports & Performance Car Clubs "Cumbria 8th International Motor Show 2019" at the Westmorland Show Ground, nr Kendal. Another great day out amongst over 800 vehicles from all marques including Aston Martin, Porsche, and of course plenty of Jags.
Following the MOT in June and an advisory that new tyres would be needed soon, I had a decision to make. Keep the Mondeo 16in rims which were fitted to the car when I bought it, or use this opportunity to replace with genuine Jaguar 17in rims. The 17in tyres were actually coming out cheaper than the 16in ones! So the decision was made to get rid of the aging 9-spoke Mondeo alloys and fit fully refurbished Jaguar Aguila 17in alloys in Silver with metal flake. The tyre choice was Falken Azenis FK510 225/45R17 94Y XL. Rims and tyres supplied and fitted by PXWheels in Poulton. This was also a good opportunity to ditch the original 3-piece Jaguar wheel lug nuts. These have a tendency for the chrome cover to break or fall off, rusting underneath, and generally proving tricky to remove. The replacement, whilst identical in dimensions (M12 x 1.5 thread, 19mm Hex, etc) are actually 2-piece comprising the main body of the nut and a captive flat seat washer (no chrome 'cover' to fall off or get damaged). Purchased from Tech World Direct on Ebay.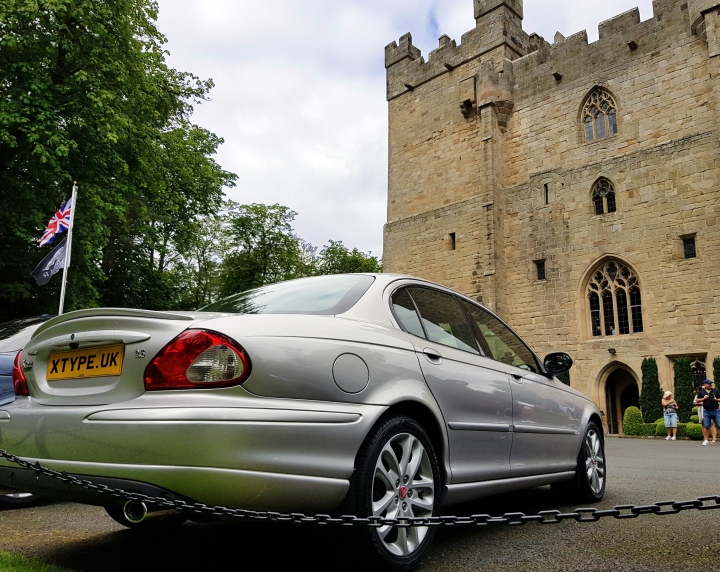 Langley Castle, Northumberland
Sunday 14th July 2019 brought a Jaguar event with a difference - a 'convoy' drive along the scenic A686 taking in the Hartside Pass enroute to Langley Castle, in Northumberland. Thirty Jaguars congregated at the KFC car park on the A66 at Penrith before embarking on a spirited drive along one of the best drives in the UK. Just under an hour to travel the 38 miles or so with some slow bits, some tight hairpin bends, ups and downs, plenty of quick sweeping stretches, all alongside some breathtaking scenery. Watch the full journey captured on my dash cam.
The ultimate destination was the beautiful 14th Century Langley Castle, nestled in the Northumbrian valley of the South Tyne. With Jaguars lined up around the castle and the flags flying it was time for Afternoon Tea, but not just any old Afternoon Tea - this was Gentleman's Afternoon Tea. After all, we are 'Jaaag' drivers. Check out the Gallery.
Having now attended several Jaguar events, names from the forum had been matched up with faces in real life and a few friendships established. Three such friends wanted to visit, in September 2019, giving rise to the first "Blackpool Invitational".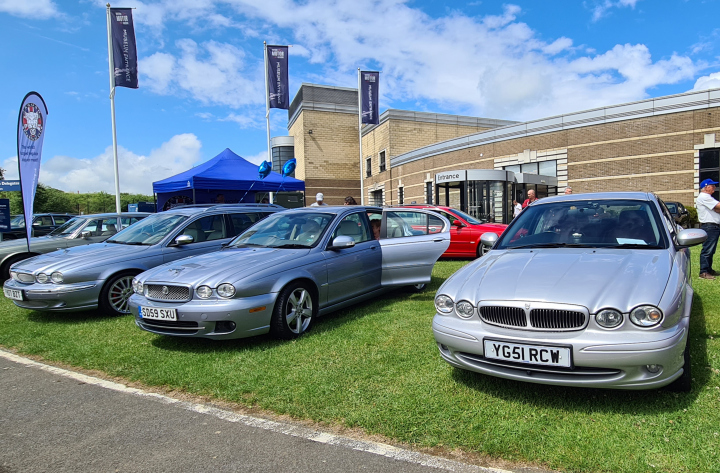 On the 'apron' at the British Motor Museum for the 20th Anniversary of the Jaguar X-Type
As we headed towards Spring in 2020, everything ground to a halt as COVID struck. The usual Spring events were cancelled but towards the end of Summer there was a glimmer of hope and the Jaguar Breakfast Club was once again calling. Another impressive turn out at the British Motor Museum, with the Jaguar community happy to be able to come together once again. Unfortunately, COVID wasn't over and more restrictions were put in place as we moved into Winter.
Thankfully, as Spring was moving into Summer, events were back up and running and there was a little bit of making up for lost time. Events came thick and fast visiting the Jaguar Breakfast Club at the British Motor Museum in May and July 2021, the latter being as part of the 20th Anniversary celebrations for the X-Type and the opportunity to take up my place on the hallowed turf outside the museum, and again at JLR Classic Works nr Coventry in August 2021. A visit to the Scottish Museum of Flight nr Edinburgh in August followed by a slightly larger "Blackpool Inviational" in September wrapped up 2021.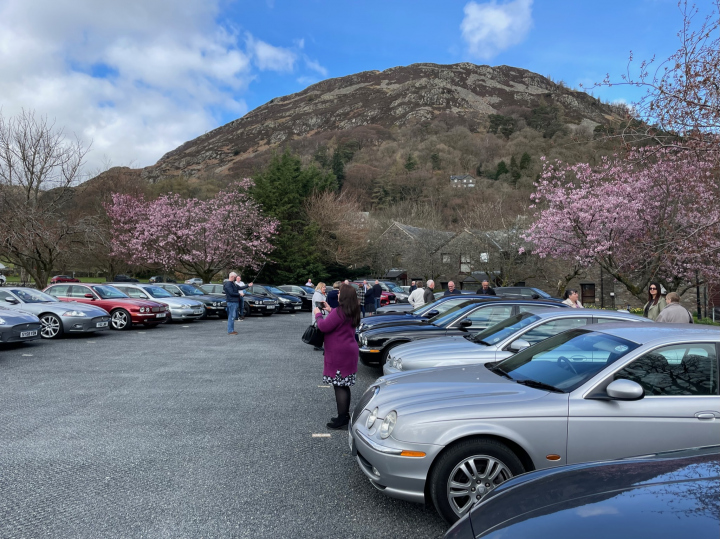 Inn on the Lake, Ullswater
It was during the Blackpool gathering that I floated the idea of holding an event in the Lake District, with an overnight stay to make things more socialable and more practical for those who would have some travel miles to cover. With eight names on the list "Jaguars at the Lakes" was born and it spiralled into something far larger than I could dare to imagine. By the time the event came around in April 2022, 40 cars and 70 people were signed up to converge on the South Lakes, mostly arriving on the Friday evening and travelling from all corners of England and Scotland. We even had one intrepid soul, Vlad, driving nearly 2000 miles from Romania to visit the UK for the first time and spend the weekend with us in the Lake District along with his trusty X-Type. It was an incredible weekend, taking in the Lakeland Motor Museum, the Lakeside and Haverthwaite Steam Railway, cruising on Lake Windermere, the Kirkstone Pass and the Inn on the Lake at Ullswater.
August 2022 was a chance to return to the British Motor Museum for the Breakfast Clubs' "Jaguar Supercharged Spectacular" and an excuse to eat breakfast and catch up with friends, and look at rather nice cars :-)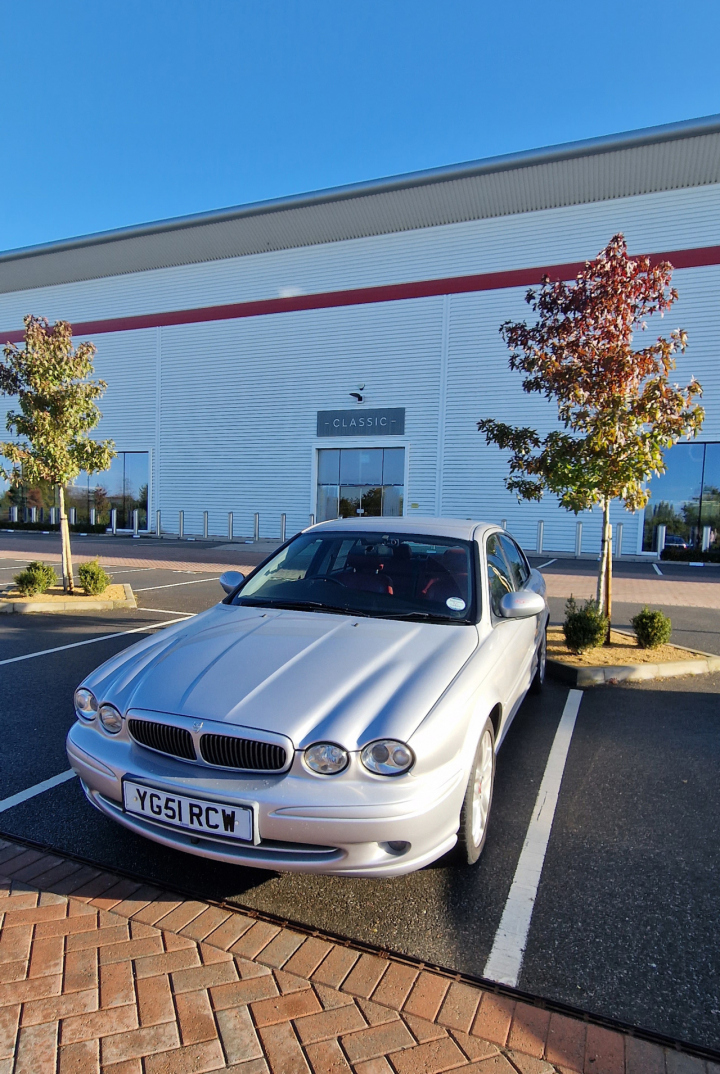 Back where it all began - JLR Classic Works, 1st October 2022
Following on from the success of Jaguars at the Lakes, planning had now started for an event on a similar scale in 2023 - Jaguars at the Cotswolds. Having decided on the itinerary for the event, it seemed like a good idea to take to the road and visit some of the venues and the hotel and get a feel for things. So with that, at the end of September 2022, a road trip down to the Cotswolds was scheduled... visiting Blenheim Palace, Hawkstone Brewery, Broadway Tower and the Fire Service College (our accommodation for the event weekend). This was tied in with yet another Jaguar Breakfast Club visit to JLR Classic Works and Silverstone Museum.
A great productive weekend, 500 miles for the X on what would be his "farewell tour" with me. It hadn't been planned as such, but over the past six months I had been looking out for what would be my next Jag. It was to be an XF S X260 saloon, around a 2017/18 model year, but I just had to wait and be patient waiting for one with a high enough spec to become available. The week before the Cotswolds trip, a suitable candidate became available, and a viewing and test drive was scheduled for the day after returning from the trip.
Needless to say, a deal was done, and four days later I was homeward bound in a high-spec Italing racing red 2018MY XF S - named Rosso - and he would come face to face with the X.
We have spent some quality time together over nearly six years - it isn't an understatement to say that this silver "baby Jag" has changed my life. My first ever car event was with the X in July 2018 at JLR Classic Works, and it was fitting that our last event together was at the very same place, in the same parking space four years later. He's introduced to me a world I knew nothing about previously, new friends, a new passion.
Jaguar is more than a car, more than a brand... it's a lifestyle!
With his 21st birthday coming up on 26th November 2022 it seems fitting that it is time for him to leave home and embark on some new adventures.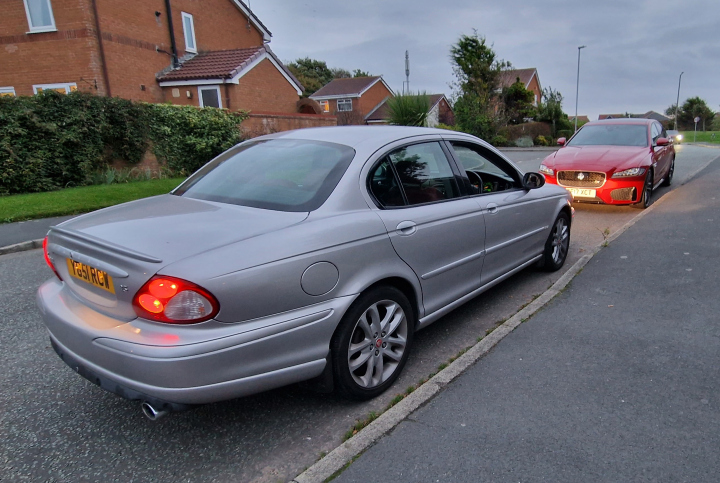 Rosso meets The X!
So... where is he going?
He has an exciting future ahead.
Watch this space to find out more... soon!